December 8, 2021
PincusCo
Q&A with MAG Partners' head of development Susi Yu
PincusCo connected with MAG Partners' head of development, Susi Yu, to discuss MAG's topping out at 241 West 28th Street, their recent new development plans just around the corner at 335 Eighth Avenue, and more.
MAG Partners is a woman-owned, urban real estate company whose principals have designed, built, and operated over seven million square feet of office, residential and mixed-use projects, including over 2,000 units of housing. On December 7, the firm topped out their project at 241 West 28th Street and provided PincusCo Media with the following photos of the event.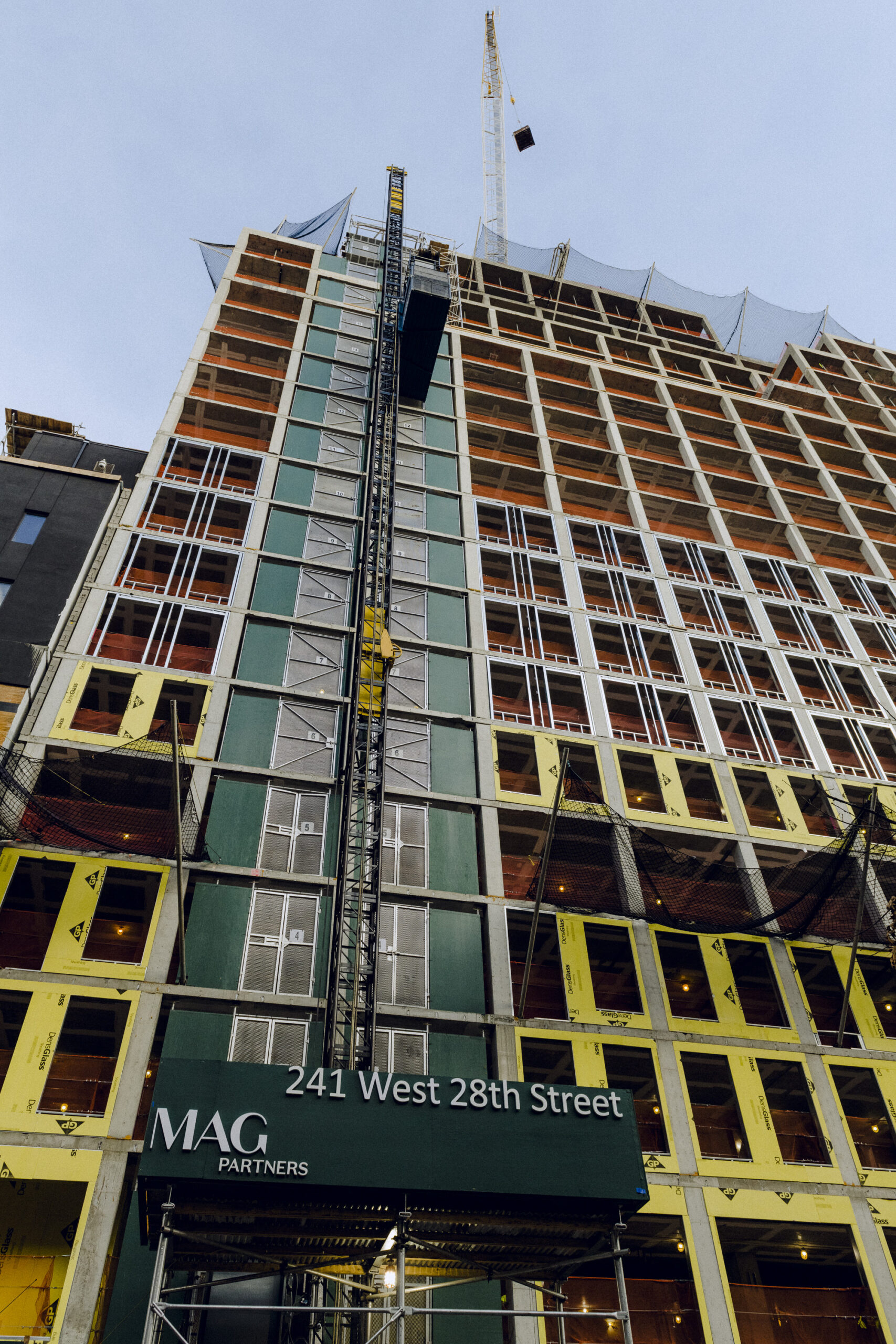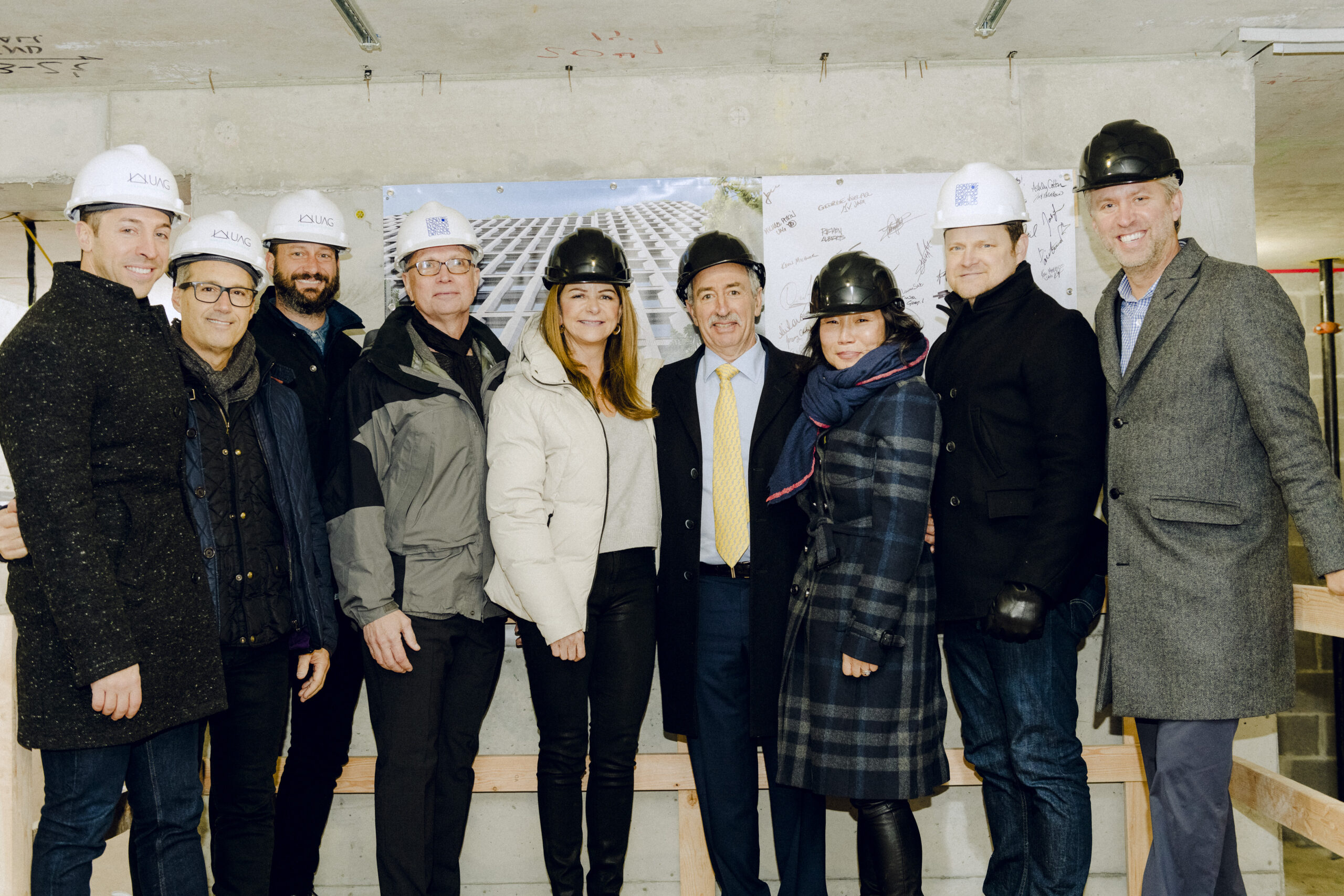 This interview is part of a new series of Q&As with industry thought leaders who invest, develop, broker, or provide professional advice related to New York City real estate.
Check out PincusCo's recent interview with Grubb Properties' vice president of development, Paul O'Shaughnessy.
Atticus: Just this week MAG topped out their project at 241 West 28th Street, could you tell us a bit about the development?
Susi: This is our first ground-up development. It is a 480-unit multifamily rental unit project and 30 percent of the units are affordable. We closed on the site in 2019 and started working with COOKFOX as the architect. We've been working on this now for close to two and a half years. We closed on the project financing in November of 2020 and started the foundation shortly thereafter and topped out December 7th. We will bring the project online in January of 2023, and are currently on schedule to meet those deadlines, so we are super excited.
Were there any unexpected elements that facilitated development, or others that slowed it down?
COVID was a huge curveball. We had to close on our construction financing in order to start construction and the pandemic made us take a different route to get that done. Before the shutdown we were speaking to traditional banks about getting a construction loan and after the shutdown we had to pivot and look at different sources of capital. It took us about four or five months to find the right partner, which ended up being Madison Realty. Interestingly, because of the pandemic we were able to buy the project with favorable economics. We had awarded 60 percent of the project when the market was very competitive and relied on local sourcing to avoid supply chain issues.
Earlier this fall MAG filed plans for another Chelsea project, a 128-unit mixed-use development at 335 Eighth Avenue, could you talk a little about the project and how the deal with Penn South to develop it came to be?
MAG Partners was fortunate to be on a list of selected developers that Penn South asked for proposals from in early 2020. We submitted a residential building, designed very contextually by COOKFOX, and at the end of 2020 we were selected. We worked through the business issues with Penn South and executed the LOI earlier this year and we are now working on the ground lease and designing the building. Penn South is one of the few thriving NORCs (naturally occurring retirement communities) in NYC and it is an affordable cooperative housing with a long list of people wanting to live in the development. The revenue produced by commercial buildings, including our site, offsets the operating expenses and is critical for Penn South's ability to keep the co-ops affordable.
According to an analysis of DOB filings since the start of 2018, Chelsea was among the most active neighborhoods in Manhattan for new development both in terms of number of new building plans filed and total dwelling units filed for. What has made this neighborhood so appealing for new development in recent years?
I think it depends on what your boundaries are of Chelsea. A lot of people push it far west, more than I would, and much further north than I would. But what I think is interesting about Chelsea is there are very few sites and I think a lot of the projects that were filed since 2018 were probably for condominiums, not multifamily rentals, given where the market was in terms of land value, like the Edison projects sold to HFZ. Companies like Facebook relocating to, I'd call it Penn Station west area, and Google literally taking over Chelsea Market, I think it makes the existing neighborhood fabric of Chelsea that much more attractive to potential tenants or condo buyers. The neighborhood also has fairly contextual zoning, so you can't really build a tall building. So it's an interesting neighborhood with very few available sites and then what you build has to fit in the zoning of the neighborhood. You can also walk everywhere, to Union Square, Madison Square, Meatpacking, Hudson Square, it's very accessible but still feels like a neighborhood.
MAG's website states that construction on the new project at 335 Eighth Avenue is expected to begin in 2022, do you have an estimated completion date?
Likely the beginning of 2026 or the end of 2025.
Do you have any other projects lined up? How are factors such as Covid-19 and the expiration of 421-a impacting development decisions?
We have another residential project that we're working on to beat the 421-a deadline, it's a 200-unit, multifamily rental building with 30 percent affordable. We also have a boutique office building that we have been working on for the past year and a half or so. It is about 200,000 square feet and it's in a very strong location. We are also looking at other projects outside of New York City in order to increase our footprint. New York City is becoming a harder and harder place to develop so we are looking elsewhere, some are pretty large scale projects.
Looking even further into the future, what is the biggest change you anticipate in NYC's development market by 2031?
I think what you're going to see is a market where there is a dearth of rental housing because of expiring 421-a. You're going to start to see a shortage of housing. I hope the city really focuses on how to deal with the homeless situation, in terms of providing supportive housing for the homeless population. As the city gets wealthier and wealthier, those at the bottom of the economic ladder continue to suffer because of the lack of good and safe affordable housing.
MAG Partners is a woman-owned firm, do you want to speak about the significance of that?
70 percent of our firm is made up by women, which we are very proud of. We are very committed to diversity and it is something we practice not just with our team but also with other partners we deal with. For example, we demand with our consultants that there are women who are interfacing with ownership representing their firms. You know they're at the office doing all the work but they're not getting the opportunity to interface with ownership or developers, and that's how you grow business, so that is something that we do demand of our consultants. It is the same with our equity partners, our LP partner out of Australia, Qualitas, is an investment firm that was started by a woman named Carol Schwartz. We want to make sure that everyone who we work with understands what our goals and values are. That's something that is really important for us.
View Source